HYEM PAGE
In which our intrepid band guru waxes lyrical about what goes on ...
In the second of our occasional series where Greeny will speak in the medium of free association , fluently and enthusiastically about The Cheesemakers , but will often zag off on a wild tangent , never to return . Also some fresh holiday snaps of our man relaxing at home

Feel free to discuss Greeny Speaks on The Cheesemakers E-Group , which you can join on the Hyem Page .

So kick off those sandals , crack open that babycham and relax

Greenys Up !
JULY 2002
NO.2
"THE CURTAINS ARE DRAWN , BUT THE FURNITURE IS REAL"
Well, I must have written something interesting last time, as I am back writing more ramblings relating to all things cheese. Again, it's been an interesting couple of months in the Cheese camp; with some new developments and big events. The guys played their London debut, heralding a great response, and also the emergence of an outstanding new track, the anger fuelled and very aptly titled 'Hate Your Milkman', you have to watch those milk delivery persons you know, they're all up to no good…is that slander?…shit….anyway, the London gig was excellent, you can read all about it on the London page apparently…..and there's news of a new opera….now that I'm waiting for with baited breath….on with my rambling…..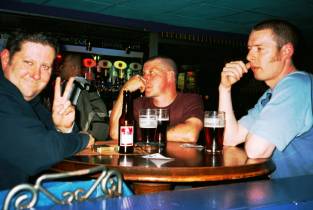 "THESE THINGS HAPPEN SO WHAT DOES IT MEAN…."
The music industry (and quite frankly the world in general) relates and describes music in terms of genres. This sounds like this so it must be this, he/she dresses like that so they must be that, fair enough, if something must be classified then so be it, but is it all really that simple? And more to the point where am I going with this…I've expressed many times, in discussions with Andy, about the many sides to the band. For anyone who was present at the Northumbria University gig, or at Damofest recently, you witnessed the raw side of the Cheesemakers, the Sheila's On The Bus, Bob Bizarre side from the White Trash EP, the side that would generally be described as the 'punk' dimension. This is accompanied by 'rock opera' dimension that is strongly present when the guys have more time to play during a set; the 'These Things Happen…', 'Big Hairy Wheel', blow your mind type songs. Then finally we have the mellow side of the band, the 'Higher Than You', 'White Trash' elements from the EP, how these would be described is beyond me, part rock, part punk, part indie. Thus onto my point, how can the Cheesemakers be classified? Should they be classified?

"LISTENING TO THE CLOCK TICK, WHEN WILL THIS MADNESS STOP"

For some reason the world needs to classify things, it keeps things simple, keeps things somehow 'right', so we all know where we're going, and what we're getting. In theory, this is a reasonably good methodology for making things comfortable to deal with, yet beneath the skin, as with most things, lie aspects that can cause misconceptions and misunderstandings. To use one of my favourite analogies, imagine a house made of Lego bricks, red walls, gray roof, white windows, green garden. What would happen if the bricks were all mixed up and the house rebuilt? Walls, roof, windows, garden all mixed colours. The house would be the same house, made with the same bricks, in the same arrangement, yet some would argue it's just not right, it's not how it's supposed to be, it should be done this way. Now does this really matter to the little homeless Lego guy who just needs a place to live, away from the evil Lego cold and rain, which beats him down? Relate this to music, is a song enjoyable because it's a specific genre, or because it means something to the listener, stirs some emotion, or helps them think about something they may not have considered previously. This is not to dismiss classification; it can act as a guidepost, to describe a type of sound or feel….yet who, in their infinite wisdom, could decide such judgements and under whose criteria?

"THERE'S NOTHING ON THE TELLY , BUT MIKE NEVILLE AND TOO MUCH SOAP"

Recently I was watching a TV show, talking about the punk movement, the music, the fashion and the ideals behind what punk itself stood for. This raised some valid points, most noticeably that these days people talk about punk and relate it to a genre, while others, mainly those who were part of it as a performer or fan, relate it as a way of life, an expression of individuality and originality. Here, I believe, is the root of what it's all about. The recent Cheesemakers gigs have been described as the punk edge of the band, whichever stance you take on the punk genre/life debate, this is, without doubt, a fact. They sounded and performed a set acceptable to be included in the genre of punk, yet the nature of the band goes far deeper than this to the point where punk is the way of the Cheesemakers, regardless of which musical style of song they decide to play.

"I NEED TO GET SOME GEAR, GET ME OUT OF HERE"

John Lyndon recently commented on the state of today's mainstream so-called punk, labeled by a genre, basically expressing extreme distaste and lack of originality. There seems to be a modern trend of mainstream teenage 'punk' bands out there, who basically look and sound the part to fit criteria for genre classification, yet what about the way of life, the meaning, the expression that some would describe as 'punk'? I've heard many songs from punk bands around in it's original era, and there is a trend which is lacking in many of today's 'punk' bands. To me, and people may disagree and are welcome to do so, original punk was about a view of society, it was about having a voice to get points across, it was about standing up and taking no shit, most of all it was about conviction, self-belief, faith in change, and significant originality. Call me a skeptic or even antagonist, but I just can't see that in many of these modern punk bands. Don't get me wrong, some write some great songs, yet often the heart, material, and drastically, originality is lacking.

"MY DEAR I HAVE AN IDEA"

Yet strangely enough, away from the mainstream, I'm sitting here listening to a band that lack none of those things, a band with something to say, expressing what they believe in an original and alternative way, a band that has genre-acceptable punk dimensions. Now if we add all that up, it should equal punk, emulating the way it was, yet by it's very nature delivering the goods in an original way. Ladies and Gentlemen please stand up for …..The Cheesemakers, a band of punky proportions -;o) Then again, who really needs a classification, or a genre, or a reason to be who they are, as long as they do what they believe in and stand true to themselves…..erm…..in fact, sod it, I hereby declare a whole new genre, aptly named 'Stuff' to which the Cheesemakers not only belong to, but have pioneered, so in all those industry and magazine annual music polls going around, please vote 'Stuff'…you know it makes sense….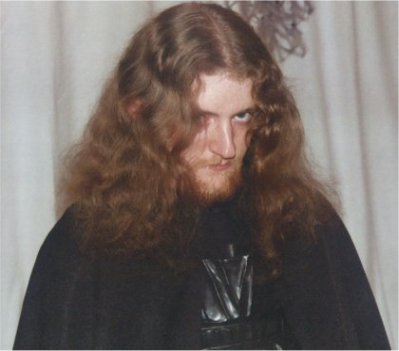 WORDS OF WISDOM
Until next time, if there is one after ending with that moralistic Waltons-esque drivel, I'm sure I have a point though, maybe the Waltons had it right all along….hmm…….-;o)
Thanks for listening, and remember, Think Cheese!!!
Greeny -:o)
PS – It's come to my attention that there's a lot of you out there who have only heard the 'White Trash' EP, I'd like to personally recommend the 'It's Toasted' album, it offers a greater spectrum of the Cheesemakers sound and views and compliments the EP perfectly, even if you think I talk shite, check it out anyway it's a fantastic album. Alternatively wait for the new album which will feature new recordings of some of the material contained within…..apparently -;o)